Rodolphe BRESDIN: Intérieur Moldave - Copperplate - 1859/1865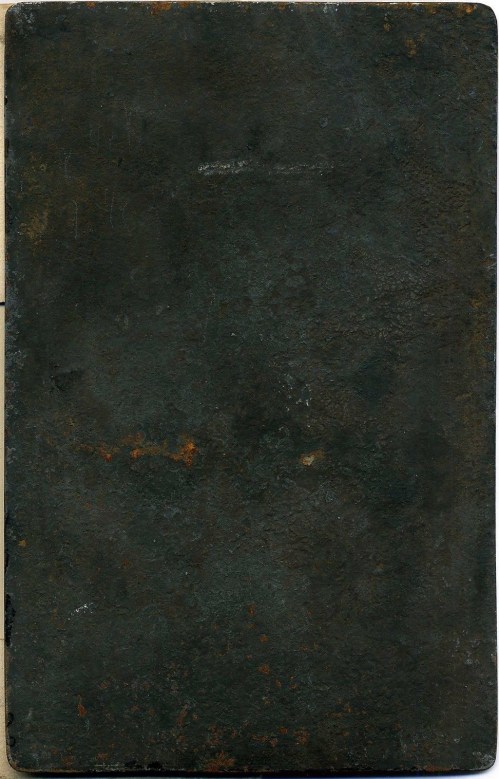 Price on application
[Moldavian Interior]
Original copperplate worked in etching, signed and dated in reverse in the subject Rodolphe Bresdin 1865. Plate: 200 x 129 mm; weight: 280 g. Subject: 167 x 111 mm.
The plate is beveled (with the corners rounded), steel-faced and varnished. A few very slight scratches or rust spots, which don't spoil at all the etched subject, whose details are clearly visible. Excellent condition.
The copperplate for Intérieur moldave hadn't been located in any known collection or mentioned in any reference work to date. Very few plates by Rodolphe Bresdin have survived. Three are in the collection of the Bibliothèque nationale de France: Intérieur flamand (VG 86) (beveled and steel-faced plate), Cour de ferme (together with Le Moulin à eau etched verso) (VG 108 and 119) and Le Retour du chevalier (VG 132) (beveled plate with the corners rounded). Four are in American public collections: New York Public Library: Le Chevalier et la Mort (VG 120) (together with Le Ruisseau sous bois etched verso (VG 145)); Brooklyn Museum: La Maison enchantée (VG 135); The Baltimore Museum of Art: Le Repos en Égypte à l'âne bâté (VG 138); The Art Institute of Chicago: La Grande bataille (VG 94). Van Gelder only listed ten other remaining plates in private French or American collections: one cancelled and five in bad condition.
Bresdin himself damaged some of his plates, etching them also on the back or sometimes etching another image over the previously etched one. E.g. he etched Le Ruisseau sous bois over Les Baigneuses dans la montagne (VG 115) and he used the back of the same plate for the etching Le Chevalier et la mort. He also etched La Cité lointaine (VG 131) on the back of the Entrée de village plate (VG 103) and later etched Le Cours d'eau (VG 144) over La Cité lointaine. This plate, which had been varnished, was sold in 1997 by Audap-Picard-Solanet & Associés at Drouot, Paris.
Dirk van Gelder describes two states of the etching Intérieur moldave (VG 93). He mentions only one proof of the first state and a few proofs of the lithography transferred from etching ("report sur pierre") by P. Rivière in Toulouse (Van Gelder pp. 60-61). In the first state, Rodophe Bresdin 1859 is inscribed to the left of the picture of the Virgin and siempre el mismo ("always the same") to the right.
In the second (final) state, Bresdin etched over the former signature and date and added (bottom, middle) Rodolphe Bresdin 1865 amen (letters etched in relief, right way round on the plate but in reverse on the proof). He also added or redrew a few utensils and figures. In particular, a shelf with a box, a demi-john, woven baskets and even a well-hidden cat replaced the row of food supplies hanging from the roof in the first state. Two drawings of Intérieur moldave are also known: a study (Van Gelder, p. 60, ill.) and a drawing in pen and black ink on tracing paper (Auction sale, Artcurial-Briest-Poulain-Tajan, November 13, 2013, no. 25).

The copperplate comes with a proof of the second state printed on heavy cream wove paper, the margins of which have been folded in order to provide a protective sleeve to the plate. Subject: 165 x 111 mm; sheet: 315 x 222 mm. One or two slight scratches on the subject, surface dirt, rubbing and short tears on the folds of the paper, rust stains verso on the folds. According to Dirk Van Gelder, second state proofs are probably all posthumous.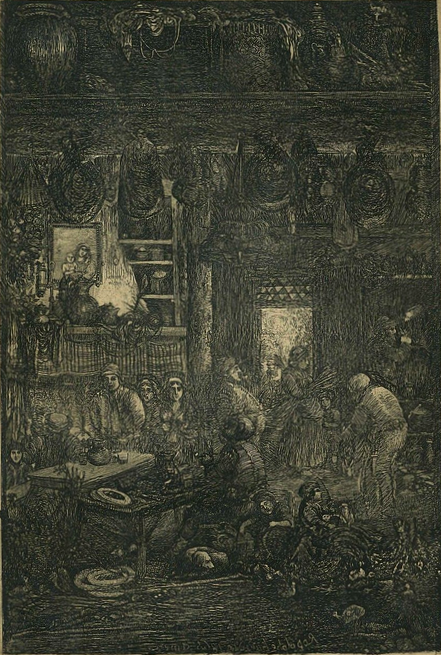 References: Dirk Van Gelder, Rodolphe Bresdin, Catalogue raisonné de l'œuvre gravé, Martinus Nijhoff, La Haye, Pays-Bas, 1976; Maxime Préaud, Rodolphe Bresdin, 1822-1885, Robinson graveur, Paris, Bibliothèque nationale de France, 2000.