Édouard MANET: Les Petits cavaliers - 1861-1862
SOLD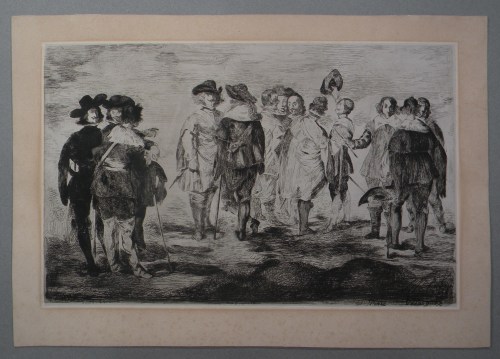 SOLD
[The Little Cavaliers]
Etching, drypoint and aquatint, 249 x 391 mm. Guérin 8, 3rd state (of 4), Fisher 6; Harris 5, 3rd state (of 5).
Impression printed on greyish chine appliqué on wove paper. Impressions of the third state were made before the accident that damaged the plate ca. 1867 and the rework of the right leg of the Cavalier with his back turned in the center.
The print is in very good condition. Mat stain in the margins of the wove paper sheet, small old repaired tear (28 mm) in the right margin, old paper tape on the edges verso. Sheet: 310 x 443 mm.
Les Petits cavaliers is one of the earliest engravings by Manet, who etched it from a painted copy he made at the Musée du Louvre after a picture formerly attributed to Velasquez: Réunion de treize personnages [Gathering of Thirteen Persons of Rank]. Manet's painted copy is currently in the Chrysler Museum of Art. His etching was published in 1862 by Cadart and Chevalier in the set Huit gravures à l'eau-forte par Manet [Eight etchings by Manet]. The following year, Manet had a few proofs printed on chine paper for some friends of his. He appears to have intended to gather fourteen etchings in a new set. Only one such set is known (according to Mr H. Prouté), and also a trial proof of a frontispiece etched for this set with the fourteen titles, bearing a dedication in ink to Charles Baudelaire and the inscription: 28 pieces E.M. A few copies of Les Petits cavaliers on chine appliqué are known.
Manet was especially fond of this etching. He exhibited Les Petits cavaliers on several occasions: in May 1863 at the Salon des Refusés (no. 674) and then in his personal exhibition in 1867 together with his painted copy after Velasquez; and again at the Salon in 1869 (no. 4066).
The copperplate for Les Petits cavaliers was offered by Alfred Strölin to Jacques Doucet and is now in the collection of INHA, together with the copperplates for L'Infante Marguerite and Le Torero mort (see the article written by Johanna Daniel about these copperplates on INHA's weblog).