Johannes and Lucas van DOETECUM after Hieronymus BOSCH: The Temptation of St. Anthony - 1561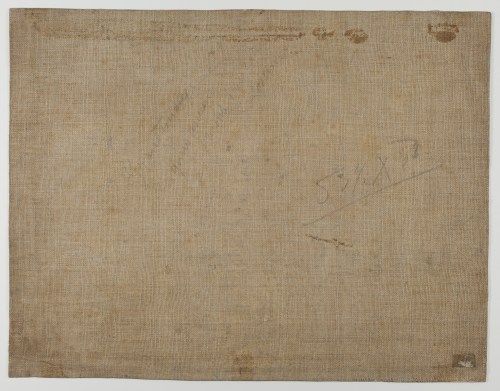 Price: 34 000 €
Etching and engraving, 430 x 332 mm. New Hollstein (Joannes and Lucas van Doetecum) 216, Riggs 9.
Fine impression printed on laid paper, enhanced at the time in gouache colours and cloth-backed.
Two small repaired losses of paper, without ink retouching, one in the lower left corner, the other on the right edge downwards, and a tiny repaired loss under the frog, some minor surface rubbing and small creases. Usual central vertical fold.
Very rare.
Several prints by the van Doetecum brothers in period colors are known, including an exceptional print of a procession engraved in thirty-three plates and a print of Landscape with Pilgrims at Emmaus, engraved after Bruegel (Painted prints: the revelation of color in Northern Renaissance & Baroque engravings, etchings & woodcuts, p. 42 et p. 159 to 161 ). Susan Dackerman notes in particular about the prints engraved after Bruegel: "In 1558, the Antwerp book publisher and dealer Christopher Plantin sent the Paris bookseller Martin Le Jeune several painted impressions of prints after Bruegel for him to distribute in France. The prints were among a batch published by Hieronymus Cock, the publisher of Bruegel's design. Timothy Riggs surmines that Plantin, because he frequently hired colorists to paint the illustrations for the books he published, commissioned the coloring of these prints." (Painted prints, pp. 160-161).
Our impression of The Temptation of Saint Anthony, contemporary with these prints after Bruegel, could have been colored in the same circumstances.
Traditionally described as the Temptation of Saint Anthony, the print could also represent the temptation of Saint Christopher. "The holy giant - who is indeed depicted taller than the other figures - is nonchalantly lying under a sod shelter, his staff resting on one of the branches supporting the roof. The hermit mentioned in the legends of Saint Christopher is indeed represented on the left, engaged in a fight against multiple assailants. This character does not usually appear in the stories about St. Anthony, who was himself a hermit." (Matthijs Ilsink, in Hieronymus Cock, La Gravure à la Renaissance, p. 252, translated by us).
In the estate of Volcxken Diericx, widow of Hieronymus Cock, the copper is described as "a copper plate of Saint Christopher by Hieronymus Bosch" [Een coperen plaete van Sinte-Christoffel van Jheronimus Bos]. The authors of the New Hollstein volumes, however, refer to another copper: "Een coperen plaete van Sint-Anthuenis Temptatie".