Cornelis CORT: The Three Fates - 1561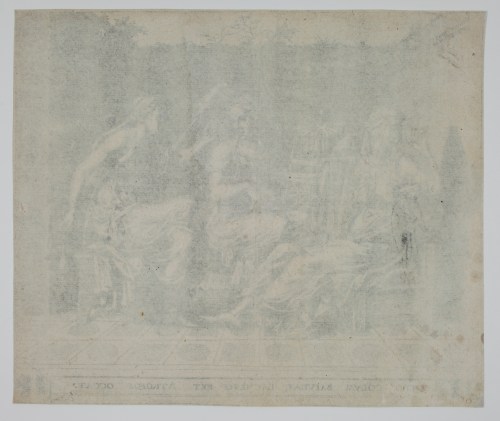 Price: 2500 €
Engraving after Giulio Romano (1499-1546), 214 x 254 mm. New Hollstein 188, 2nd state (of 2).
Impression of the 2nd state (of 2) with the signature Cor. Cort. Fec and Hieronymus Cock's address replaced by Julius Goltzius's address.
Fine impression printed on watermarked laid paper (large hand with a flower on top, 55 x 19 mm). In perfect condition. Thread margins.
Manfred Sellink notes that "[Julius] Goltzius acquired this copperplate, together with many others, from the estate of Cock's widow, Volcxken Diericx. It is referred to in the 1601 inventory as 'Een coperen plaete van de Spinsters' ('a copperplate of the spinsters'); Duverger 1984, p. 32" (Sellink, p. 110, note 6).
The composition of the engraving is inspired by a stucco relief created by Giulio Romano around 1530 for the Chamber of the Stuccoes of the Palazzo del Te in Mantua.  Manfred Sellink notes the influence of Italian master Giorgio Ghisi, who had just created an engraving on the same subject in 1558. Sellink however underlines the originality of Cornelis Cort's style, and compares it to the style of Philippe Galle (1537-1612): "Cornelis Cort endows his figures with greater volume and often cuts into the plate with bold, comparatively short strokes. The œuvre of Galle, on the other hand, is distinguished by a more two-dimensional emphasis in composition and a flexible, elegant style of engraving." (Sellink, p. 110).
In contrast to Giorgio Ghisi, Cornelis Cort placed the three sisters who rule over human destinies in front of an architectural background, which gives the scene a certain realism. To the right of the composition, Clotho, "the spinner", spins the thread of life from birth; in the middle, Lachesis, "she who decides one's fate", unwinds and measures the thread of each destiny; to the left, Atropos, "the inflexible one", cuts it.
Reference: Manfred Sellink: Cornelis Cort: Accomplished Plate-Cutter from Hoorn in Holland, 1994.