Eugène DELÂTRE: Marcel [The artist's son] - 1894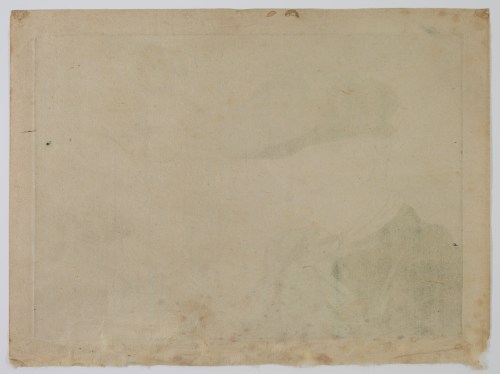 Price: € 2500
Etching and aquatint, 180 x 254 mm. Cate and Grivel 65, undescribed state.
This impression is the only one we know of before the copperplates were cut down by around 3 mm on all sides. The other two impressions we know of are both printed from the reduced plates. This reduction resulted in the etched signature and date being cut in the middle and therefore difficult to read. One impression is at the Zimmerli Art Museum (quoted in De Pissarro à Picasso, p. 185, cat. 65, and reproduced in Art Nouveau Bing, pl. 26); its dimensions are 174 x 248 mm and it is signed in blue pencil, numbered n°5 and annotated Marcel, tir. à 28 ép [Marcel, edition of 28 impressions]. Another impression was offered for sale by Zygman Voss' Gallery in Chicago; it was numbered n°27 and signed.
Fine impression printed with registration marks in dark blue, light blue, pale rose and orange on Japan laid paper. Signed in plate Eug Delâtre 94. Signed in blue pencil in the bottom margin (signature almost completely erased). A few tiny handling creases and some slight surface rubbing in the right part of the picture. An area of paper thinning in the bottom right margin verso. Small margins all around the platemark (sheet: 210 x 285 mm).
Nicholas-Henri Zmelty points out that Eugène Delâtre was a pioneer for his research on colour etching, from the early 1890s. With his friend the painter and printmaker Charles Maurin, he first explored the technique of printing in colour "au repérage" by registering several plates (one per colour), before turning, around 1895, to the process of inking "à la poupée" (a small ball-shaped wad of fabric to ink the plate) which required only a single plate. He taught this process to many artists of his generation, and printed their etchings.
Delâtre used the technique "au repérage" to print Marcel, as well as other portraits, including family portraits, from the same period: his daughter Pauline standing at the garden gate, his father Auguste examining an impression, standing next to a large press, and his beautiful self-portrait in his Montmartre studio. Another etching printed in colour with the same technique, circa 1895, again shows his son Marcel, this time smoking a cigarette.
The very tight framing, at child's height, leaving hardly anything to see of the furniture in the room, which is truncated by the edges of the plate, is strongly reminiscent of Japanese prints. The composition is structured by the vertical and diagonal lines of the fireplace, the bedside table and the window - the bottom of the two open window wings are just visible. The plain decoration (a simple frieze of interlacing patterns and a flower on the mantelpiece, three cardboard boxes placed in the bedside table) and the concentrated mien of little Marcel give this intimate portrait all its charm.
References: Gabriel P. Weisberg: Art Nouveau Bing : Paris Style 1900, 1986; Phillip Dennis Cate and Marianne Grivel, De Pissarro à Picasso, L'Eau-forte en couleurs en France, 1992; Hélène Koehl and Nicholas-Henri Zmelty: Impressions à Montmartre : Eugène Delâtre & Alfredo Müller, 2013.