Jean LEPAUTRE: Saint Jerome in the Wilderness
SOLD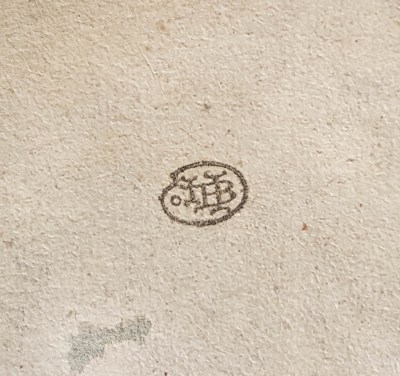 SOLD
Etching, 188 x 127 to 130 mm. Inventaire du Fonds Français 84.
Very fine impression printed on laid watermarked paper: large letter B (maybe the papermakers Le Bé)  with initials CB in a small coat of arms underneath. In very fine condition. The impression is trimmed to the borderline; a small light stain in the upper right corner.
Provenance: Reverend J. Burleigh James (mid-19th century) with his collection mark verso (Lugt 1425).
Maxime Préaud notes that Jean Lepautre engraved this piece "in the manner of Guido Reni" (IFF p. 83, our translation). Jean Lepautre is "known mostly for his ornamental compositions", but he engraved a higher number of "non decorative" pieces, in which he reveals "a simple and direct fashion, without remorse or rebitings, in a characteristic personal style, even if on occasion he can be a jack of all trades, making pastiches of Della Bella, Herman Van Swanevelt, Chauveau or La Hyre or even Callot." (IFF p. 56, our translation).
Rare.