Albrecht DÜRER: The Entombment - ca. 1497/1500
SOLD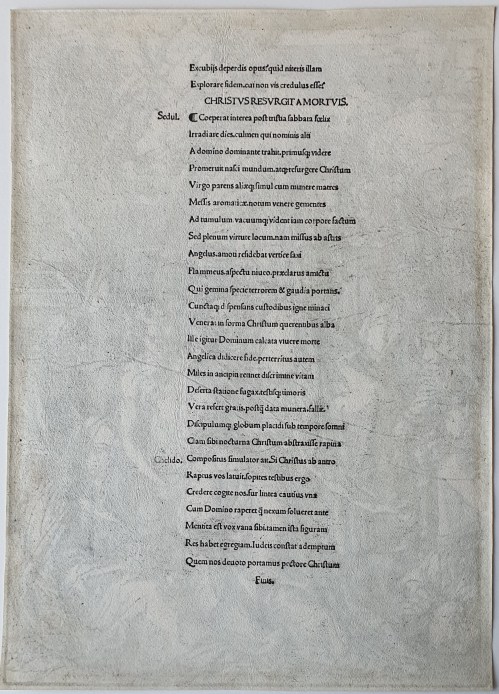 SOLD
Woodcut, 389 x 278 mm. Meder 123, Bartsch 12. Impression of the 1511 edition.
Plate of the Large Passion series. Impression of the 1511 edition, with the latin text printed verso.
Very fine and brilliant impression evenly printed on laid paper. In perfect condition. Thread margin all around the borderline.
The wood engravings for the Large Passion consist of 11 plates with a frontispiece; the series took Albrecht Dürer over ten years to finish. He engraved seven plates between 1497 and 1500 (among which The Entombment), and then four other plates and a frontispiece around 1510.
The three oldest plates in the Large Passion: Agony in the Garden, The Flagellation and The Entombment are stylistically close to the first group of plates in The Apocalypse. They "stand out with their immense wealth of detail and pictorial effects" (S. Renouard de Bussierre, p. 104, our translation).
The Entombment is sometimes called The Deposition. The picture indeed reunites these two traditional scenes in the Passion cycle: in the background stands the cross on which Christ was crucified, and on the right of the engraving, we see part of the open tomb where his body is going to be laid. Dürer's plate also contains a Lamentation scene: Mary Magdalene holds the dead Christ's hand, while the Virgin faints in a paroxysm of grief.
Reference: S. Renouard de Bussierre: Albrecht Dürer, œuvre gravé, 1996.