Félix BUHOT: Une jetée en Angleterre, 2nd state - 1879
SOLD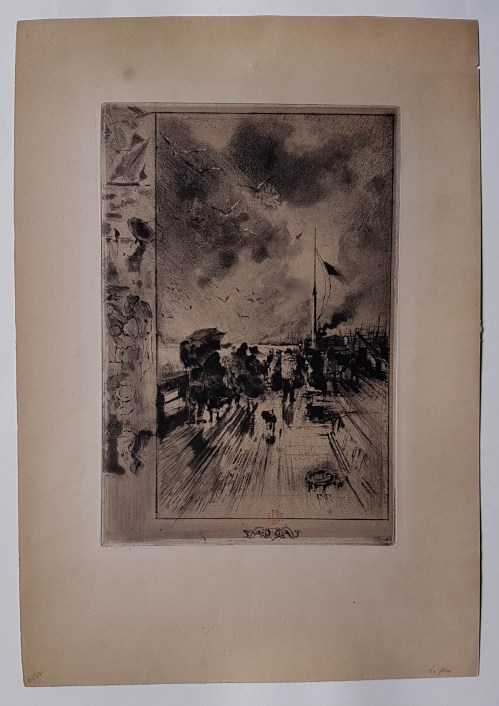 SOLD
[A Pier in England]
Drypoint, with aquatint, 298 x 200 mm. Bourcard/Goodfriend 132, 2nd state (of 8).
Impression of the 2nd state (of 8), before the removal of the marginal sketches and of the cartouche with two dolphins.
Superb impression printed with very rich burr on pink-tinted chine appliqué on heavy wove paper. Bearing the red owl stamp signature bottom. In very good condition. Full margins (sheet: 450 x 315 mm).
Jean-Luc Dufresne notes that in 1879, Buhot "became friends with Roger Leigh and spent times in the South-East of England (Maidstone – Rochester) from 6th August 1879 to December 1879. He took notes on Constable and Turner. He painted and sketched around Medway." (Félix Buhot, Étude et catalogue raisonné des peintures, pastels, aquarelles et gouaches, p. 8, our translation).
In several of his English etchings, Un débarquement en Angleterre [Landing in England], Une Jetée en Angleterre [A Pier in England], La Traversée [The Crossing], or Un vieux chantier à Rochester [An Old Building Yard At Rochester], Buhot reveals his sensitivity to the atmosphere and his taste for rainy weather. The pink-tinted appliqué paper in this impression of Une Jetée en Angleterre adds an exceptional stormy nuance to the print.