Félix BUHOT: L'Enterrement du burin, frontispice pour L'Illustration Nouvelle - 3rd state/5 - 1877
SOLD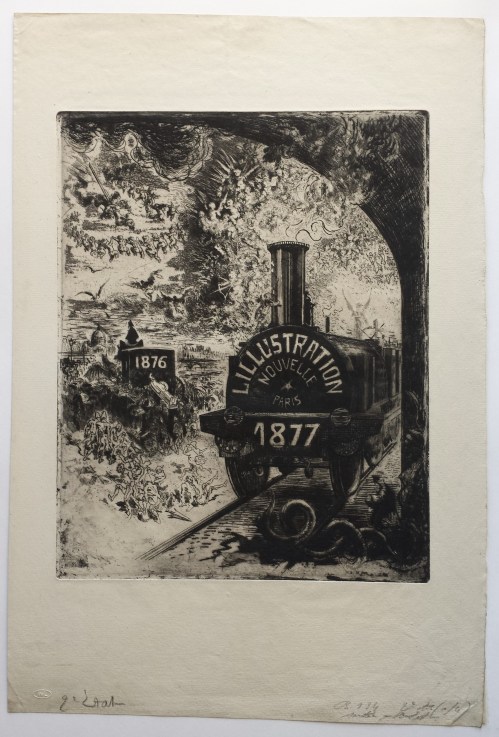 SOLD
[The engraving's burial]
Etching, 345 x 278 mm. Bourcard/Goodfriend 124, 3rd state (of 5).
Impression of the 3rd state (of 5 according to Goodfriend), the plate completed on the left and rebitten, but before the new works in drypoint in the sky, before the aquatint and before the addition of the signature bottom left.
Superb impression printed on laid paper. Generally in excellent condition. A small thinning of the paper with a very tiny pinhole in the subject. Full margins (sheet: 519 x 350 mm). Annotated in pencil, probably by Buhot himself, bottom left: 2e Etat.
Provenance: Marcel Lecomte, his blindstamp with initials ML in the bottom left margin (Lugt undescribed).
As it is before the numerous strokes in drypoint that Buhot will add in the sky in the 4th state, this impression has still a high brightness which contrasts strongly with the deep blacks and reinforces the dramatic intensity of the scene created in the 2nd state.
This print was designed by Buhot as a frontispiece for the 9th volume of L'Illustration Nouvelle par une société de peintres-graveurs à l'eau-forte; it is also known under the title L'Enterrement du burin. James Goodfriend describes the scene: "The subject of this curious allegory is the 'death' of reproductive engraving (the spirit of the engraver's tool is carried aloft by angels, while the 'body' is taken off by an old hearse, labelled 1876, drawn by a winged horse) and the triumphant arrival of original etching transported by a modern locomotive called 'L'Illustration Nouvelle' and dated 1877." (C. & J. Goodfriend, catalogue number four, Félix Buhot, 1986, no. 90).
Henri Beraldi was a tad less enthusiastic when he commented on the print ten years later: "This piece was also called: L'Enterrement du burin. Right... This title naively uncovers the ambitions of etching's supporters at the time. They have since had to come down a peg or two. " (Les Graveurs du XIXe siècle, guide de l'amateur d'estampes modernes, volume 4, 1886, p. 31, no. 124). Beraldi however truly enjoyed the work of the young artist and it was him who commissioned Buhot with the frontispiece for volume 4 of Les Graveurs du XIXe siècle. Another drawing, that Jean-Luc Dufresne called « Cy gist l'eau-forte, fantaisie pour le frontispice des Graveurs du XIXe siècle » [Here lieth etching, A fantasy for a frontispiece for Les Graveurs du XIXe siècle], shows that, as in L'Enterrement du burin, Buhot had been toying with the idea of illustrating the death of an artistic genre, etching this time, "killed" by photography (Jean-Luc Dufresne, Étude et catalogue raisonné des peintures, pastels, aquarelles et gouaches, PhD dissertation, 1981, no. 392). He abandoned the project, perhaps on Beraldi's advice, and finally created the frontispiece as we know it (B/G 164).