Giovanni Battista PIRANESI: Vue des restes du derrière du pronaos du Temple de Neptune - 1778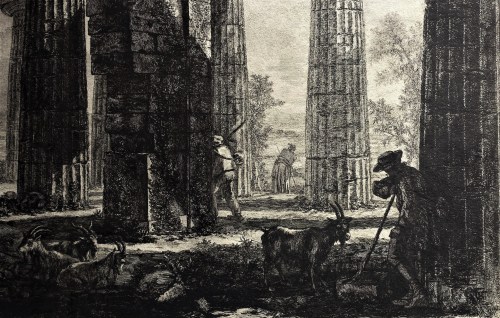 Price: € 9000
[Rear View of the Pronaos of the Temple of Neptune]
Etching, 495 x 670 mm. Focillon 596; Hind p. 87.
Plate XIV of the series of 20 plates and a frontispiece titled Différentes vues de quelques restes de trois grands édifices qui subsistent encore dans le milieu de l'ancienne ville de Pesto autrement Posidinia qui est située dans la Lucanie [Different views of some of the remains of three great edifices that still exist at the center of the ancient city of Pesto, or Posidonia (Paestum), which is situated in Lucania].
Exceptional working proof of an undescribed state, before some reworks in the landscape, before the letters in the subject and before the text in the bottom blank part of the plate.
Superb heavy black impression printed on laid watermarked paper (fleur-de-lys in a double circle, similar to Robison 36). Annotation in pencil in the blank part bottom left: Antiquités de Paestum [Ancient Monuments of Paestum]. Impression trimmed on the platemark top, thread margins on the three other sides, as in other working proofs of the same series. Generally in good condition. A vertical crease 80 mm from the right edge, with two 30 mm repaired tears top and bottom.
Piranesi's 1961 exhibition catalog (Smith College Museum of Art, Northampton) mentions eight recently discovered proofs of the Différentes vues series in the Library of the Museum of Fine Arts in Boston (of which seven are to date digitised on MFA's website) and points out that « the Boston proofs have considerable technical interest in that several lack the strong massings of light and shade which were finally added in a plate such as the present one [plate X of the series] to bind the forms together in a Baroque unity. » (Piranesi, p. 40). One of these eight proof is an impression of the Vue des restes du derrière du pronaos du Temple de Neptune in a state which is not only before letters but also before the large massings of shade on the columns and in the foreground and before some details as the staff held by the leaning man with his back turned, on the right. Our impression, with these details, is from an intermediary state between the Boston proof and the Roman 1778 edition. Some other working proofs are in a private Italian collection. One (plate X) was exhibited in Galleria civica d'arte moderna in Turin in 1968 (L'Incisione europea dal XV al XX secolo exhibition) and is quoted in the catalogue (no. 206 and illus.). 
An impression of the plate V of the series, a fine proof before the inscription, was sold at Sotheby's on 29th June 1987 (The British Rail Pension Funds: The Collection of Old Master Prints : London, Sotheby's, 29th June 1987, no.88).
References: Piranesi, exhibition catalog, Smith College Museum of Art, Northampton, 1961; L'Incisione europea dal XV al XX secolo, exhibition catalog, Galleria civica d'arte moderna, Turin, 1968.