Étienne DELAUNE: Design of a Mirror with Medea rejuvenating Aeson - 1561
SOLD
SOLD
Engraving, 220 x 108 mm. Robert-Dumesnil 314. The title MEDEA is engraved under the cauldron and the date 1561 on the mirror's frame.
Fine impression, a litlle dry in the middle and on the left, printed on laid watermarked paper (indistinct letters). Trimmed on the platermark. In very good condition. Four tiny pinholes in the corners.
For this design, Étienne Delaune has chosen the myth of Medea rejuvenating Aeson at the request of his son Jason, according to the version of the myth in Book VII of Ovid's Metamorphoses. The main subject is surrounded with numerous allegorical figures, putti, animals and ornamentation.
A similar mirror, also dated 1561, with the title IULIA, represents "the death of Julia, daughter of Titus, dying in the arms of two of her servants, because of a poisoned drink." (Robert-Dumesnil 315)
Étienne Delaune, a goldsmith, produced numerous projects for ornaments, of which the most famous is the design for Henri II's suit of armour, inspired by the rivalry between Caesar and Pompey (1559). He also created for Catherine of Medici a mirror which was turned into a reliquary at a later date (see below). His designs were often inspired by Ovid's Metamorphoses. He also used such scenes from Ovid to decorate ewers on sketches that are in the collection of the Bibliothèque nationale de France.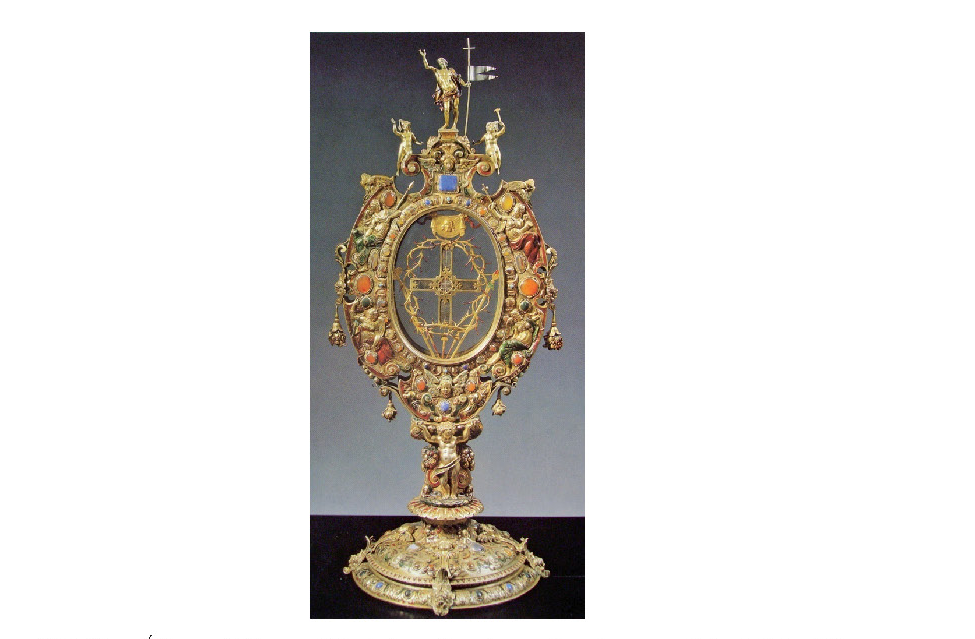 The two designs for mirrors Delaune engraved in 1561 are an exception: they are not drawings, but engravings. Michèle Bimbenet-Privat remarks that "these designs for two mirrors are exceptional among prints engraved by Delaune, which typically feature series of stories or ornamental panels, all of a small size. In an attempt to prevent against fakes, it was rare for a goldsmith to publish the complete image of an object he had created, unless the object was famous or represented a form of consecration for its creator. Was the mirror a commission by Catherine de Medici which she grew particularly fond? Did Delaune want to use it for advertisement purposes?" (L'Orfèvre et graveur Étienne Delaune (1518/19-1583): questions et hypothèses, in Comptes rendus des séances de l'Académie des Inscriptions et Belles-Lettres, Année 2009, 153-2, p. 644).