Albrecht DÜRER: Saint Christopher facing right - 1521
SOLD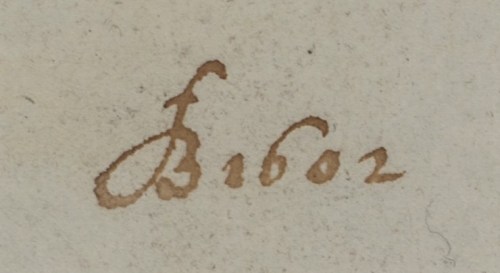 SOLD
Engraving, 117 x 77 mm. Meder 52 b/d, Bartsch 52, Hollstein 52.
Meder b impression printed in slightly brownish ink ('bräunlich' according to Meder), before the scratches on the Child's fingers and in the light.
Very fine impression printed on laid paper. Impression in very fine condition, trimmed outside or on the platemark on three sides and thread margin bottom. A very tiny loss of paper in the margin bottom right. Very small areas of paper thinning along the left border verso. Small pale staining in the upper left corner.
Collection mark verso and date 1602 written in brown ink (Lugt 365, unidentified mark). This mark is listed in the Lugt catalogue as a variant of L. 369, which is attributed to a Dutch collector. Lugt writes : « Nagler (Monogrammisten I n° 1628) thinks that this collector was Dutch, as the mark is mostly seen on prints and drawings by Dutch artists » ; and he adds: « We also frequently see this mark on fine impressions by Dürer ».