Félix BUHOT : [Croquis de passants] - c. 1878
SOLD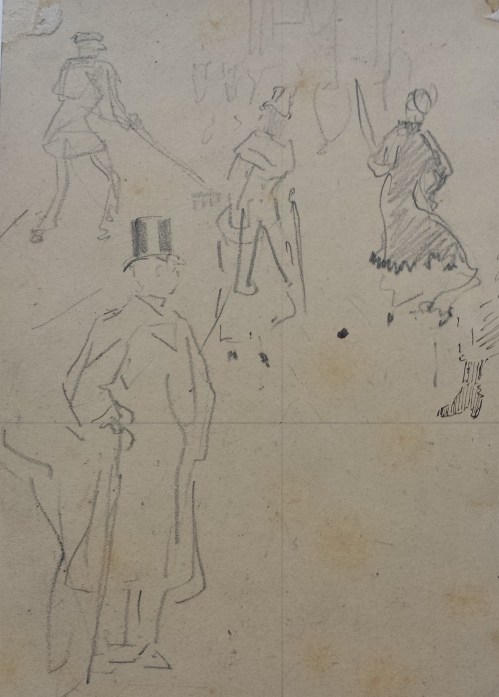 SOLD
[Sketches: passers-by]
Pencil, ink and watercolour on Bristol paper. Sheet: 125 x 190 mm. Bears the red stamp of Félix Buhot (Lugt 978) bottom left.
In very good condition. Four tiny pinholes along the upper edge, tiny skinned areas in the corners verso, small remains of paper tape on back along the upper edge.
From left to right: a police constable, a couple with a child, a woman with her back turned, a woman's face with, behind her, the sketch of a male silhouette, another couple and a third person, a woman with a muff and a parasol walking with another woman, a pencil sketch of a woman with her back turned, four heads of men wearing hats, one of them with a blonde beard and another one a very carefully sketched man with a fez, the head of a young woman with blonde hair, her back turned, with a note written in ink: La petite marchande de journaux [The newspaper seller], which covers a freely drawn sketch of a silhouette, which has been crossed out. On the back, two sketches in lead: three men, one with a rake, and two women.
These characters are Parisian types which are often seen adorning the symphonic margins of Buhot's etchings. Passers-by, hurrying or walking more leisurely, street traders, interesting faces that the artist noticed, they can be seen for example in the famous etchings of 1877-1879: Le Retour des Artistes (B. & G. 125), La Fête nationale au boulevard de Clichy (B. & G. 127), L'Hiver à Paris (B. & G. 128), La Place Pigalle en 1878 (BG 129). This sheet can be dated to this period.
Jean-Luc Dufresne notes that Buhot devoted two of his sixteen sketchbooks to Paris scenes and he highlights in particular "the dominant, obsessive importance of one aspect of Paris: carriages and passers-by under their umbrellas. These street spectators seem to embody the capital". (Jean-Luc Dufresne, Valérie Sueur, Alison Mc Queen, Félix Buhot peintre-graveur entre romantisme et impressionnisme, p. 90).