Johan Barthold JONGKIND: Sortie du port de Honfleur, 1864
SOLD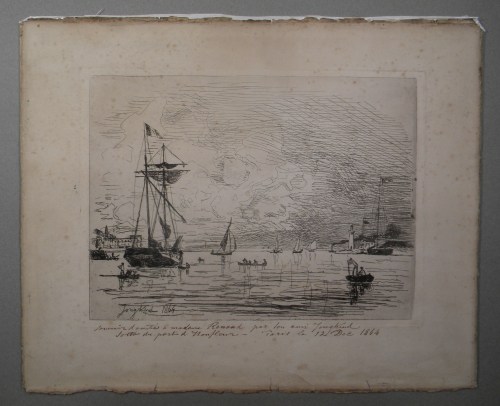 SOLD
[Leaving the Harbor at Honfleur]
Etching, 240 x 320 mm. Delteil 11, 1st state (of 4), before letter, the corners of the plate not yet rounded.
Printed with surface tone on heavy laid paper watermarked AQUA FORTISTES. Dedicated by Jongkind in brown ink: Souvenir d'amitié à madame Renaud par son ami Jongkind / Sorti du port de Honfleur – Paris le 12 Déc 1864.
Etching in good condition: two very slight scratches and scattered foxing in the image. Foxing in the margins; small tears and tiny nail holes on the edges of the sheet resulting from a former framing; the edges of the right and left margins were folded at the same time and these parts of the sheet are soiled and small shreds of paper are missing. Sheet: without folded parts: 350 x 428 mm; with folded parts: 350 x 553 mm.
A very fine impression of the first state, which according to Delteil is very rare, dedicated by Jongkind.
Jongkind drew, painted and engraved the harbor at Honfleur between 1863 and 1865. Several other works depicting the same place are known, including two watercolors (one dated 1864 in the collections of the Musée du Louvre) and a painting made the same year (A. Stein, S. Brame, F. Lorenceau et J. Sinizergues, Jongkind. Catalogue critique de l'œuvre peint, Paris, 2003, no. 338).