Félix BUHOT: Un vieux chantier à Rochester - 2 working proofs - 1879
SOLD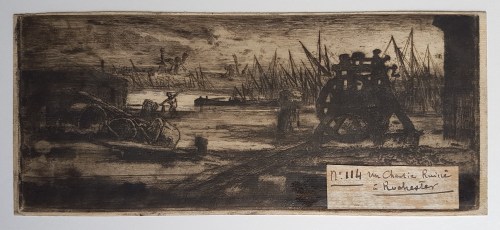 SOLD
[An Old Building Yard at Rochester]
Etching, drypoint, aquatint and roulette, 120 x 285 mm. Bourcard/Goodfriend 147, undescribed state.
Working proof, of an undescribed state, between the 1st and the 2nd state described by G. Bourcard: with the worker already sketched but before many works, including the masts to the right of the  winch.
Very fine impression, printed on heavy wove paper. The print bears some annotations by Buhot: he drew a line across the whole print and wrote the word Remonter [Higher?].
A very small stain in the subject and three tiny pinholes, maybe due to the work of Buhot on this impression. Small margins (sheet: 128 x 297 mm).
Félix Buhot developed Un vieux chantier à Rochester from a photograph, today kept at the National Library of France, on which he directly modified or emphasised certain lines in ink; he also eliminated or added certain details. Shreds of paper glued to the picture show that the artist hid certain parts of it while working.
In this trial proof, indications and sketches engraved in the lower part of the plate are still clearly visible, contrary to the second state in which they disappear in shadow, covered in printing ink.
Buhot made many trial proofs but working proofs with sketches or amendments in ink or pencil are rare.
Together with: Un vieux chantier à Rochester, very fine impression of the 2nd state (of 3) before cancellation, printed on laid paper, with a label pasted on the bottom right corner of the print recto. Buhot wrote on the label: N°114 Un Chantier Ruiné à Rochester [No. 114 Ruins of a Building Yard at Rochester]. Small margins (sheet: 124 x 288 mm).
HD pictures: