Rodolphe BRESDIN: Le Chevalier et la Mort - 1866
SOLD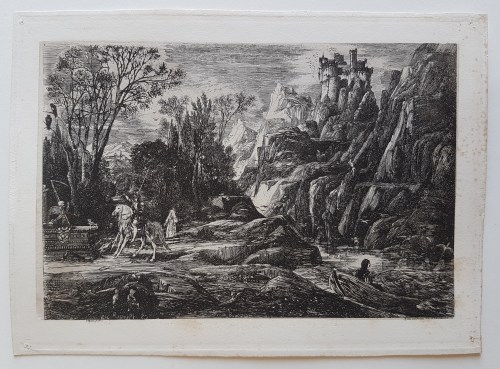 SOLD
[The Knight and Death]
Etching, 179 x 250 mm. Van Gelder 120, 1st state (of 3), Préaud 138, 1st state (of 3).
Very scarce proof of the 1st state (of 3), before further work, mainly in roulette.
Superb impression, with strong contrasts, printed on white chine appliqué on heavy wove paper. Generally in very fine condition. A few pale foxmarks in the margins. Pin holes in the corners of the wove sheet. Wove paper sheet trimmed a few millimeters outside the platemark (sheet: 185 x 255 mm).
Dirk Van Gelder lists 3 impressions of this state: one in the New York Public Library, printed on light grey chine appliqué; another one in Rotterdam on white chine appliqué; and one last one in Winterthur on white chine appliqué. Maxime Préaud mentions two other impressions: one on heavy white wove paper, described by Arsène Bonafous-Murat in 1992 in his catalogue Rodolphe Bresdin (no. 54), and one on white wove paper, described by André Candillier in 1998 (no. 21). A sixth impression on heavy wove paper, from the H. M. Petiet collection, was sold by Piasa on 5th December 2013.
Le Chevalier et la Mort was presented in 1866 at the exhibition organised by the Société des Amis des Arts de Bordeaux, under the title Une Vieille légende [An Old Legend]. It hasn't been possible to identify this "old legend". We can surmise that the narrative elements, the Knight raising his arm in front of Death, an apparition behind him, a barge (possibly Charon's?) on the bank and the hanged man at the top of the castle, all belong to a fable that Bresdin might have read, since we know, thanks to Odilon Redon, that he was an avid reader. But these "narrative" elements are also regular occurrences in Bresdin's œuvre: the Knight, Death represented as a skeleton holding an hourglass, the boat, the fortified castle, the rocky landscape, the perching owl, strange small beings in the mountains, and even the pecking birds, all people his mental universe and often figure in his engravings: Le Lac aux montagnes [Mountain lake] (c. 1849), La Comédie de la Mort [The Comedy of Death] (1854), Les Chasseurs surpris par la Mort [Hunters surprised by Death] (1857), La Baigneuse et la Mort [Young Woman Bathing and Death] (1857), Le Cavalier oriental dans les montagnes [Eastern Rider in the Mountains] (1866), Le Retour du Chevalier [The Knight's Return] (1871), Paysage rocheux [Rocky Landscape] (1880).
The title chosen by Bresdin, Une Vieille légende, might not refer to a specific fable then, but to the narrative style of the engraving itself. The title Le Chevalier et la Mort is Van Gelder's.