Gilles DEMARTEAU: Jeune dessinateur [The Young Draughtsman], after François BOUCHER
SOLD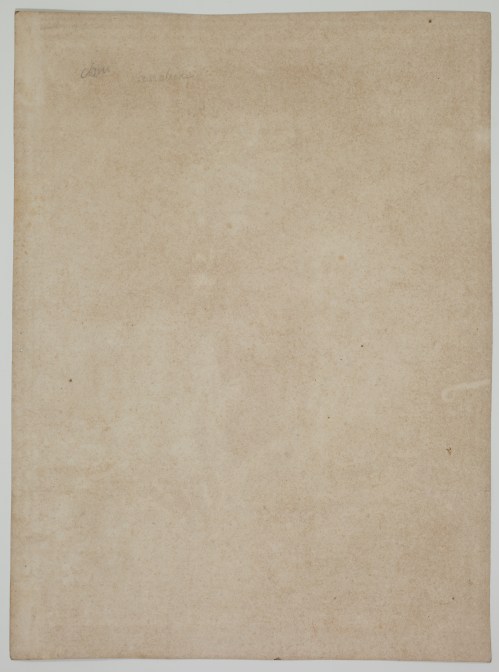 SOLD
Chalck-manner printed in red and black inks, 211 x 156 mm. De Leymarie 188, IFF 188, Jean-Richard 755.
Very fine impression printed with registration marks on laid paper. In very good condition. Three tiny pinholes on the edges of the sheet and two slight creases in the upper part on the back.
The plate bears two signatures, Boucher f. engraved on the left and Demarteau S. engraved on the right, above the first borderline. Depending on the impressions, these signatures are more or less visible. Buste de jeune fille [Bust of a Young Girl] (IFF 187), also engraved after a drawing by François Boucher, makes a pair with Jeune dessinateur.
The original drawing of Jeune dessinateur, formerly in the Francis Springell collection, was sold at Sotheby's London on 30 June 1986 (lot 85). It is drawn in red and black chalk with white highlights and grey and blue washes. François Boucher himself made an etching after this design (The Draughtsman, IFF 13). Beverly Schreiber Jacoby believes that Boucher planned his drawing as a preparation for the etching, because the young boy is holding his porte-crayon in his left hand in the drawing, and thus in his right hand in the etching. Alan P. Wintermute adds that "Boucher often made drawings to be engraved in reverse to offset the 'mirror imaging' inevitable in the standard printmaking process."
As for the model of the young artist, Alan P. Wintermute explains that "The portrayal of young men as draughtsmen, often with portfolios under their arms and brushes in hand, was a popular theme with eighteenth century French artists". He also adds that the theme is usually thought to have originated with Chardin's Young Student Drawing which was exhibited at the 1738 Salon; according to Pierre Rosenberg, Chardin's drawing was made two to three years before that. A. P. Wintermute however is of the opinion that "Boucher's drawing certainly precedes that date and it appears that it is he, rather than Chardin, who initiated the tradition." Wintermute gives as evidence a painting by Boucher dating back to the early 1730s, The Landscape Painter (since sold by Christie's, 19 April 2018), in which there is a young student holding a portfolio. As for the drawing of The Young Draughtsman, Wintermute thinks it is of an earlier date, sometime between 1729-1732.
That Demarteau engraved it many years later shows, according to Beverly Schreiber Jacoby, that Boucher had probably kept the drawing.
Reference: Pierrette Jean-Richard, L'Œuvre gravé de François Boucher dans la collection Edmond de Rothschild, 1978 ; Léopold de Leymarie, L'Œuvre de Gilles Demarteau l'aîné, graveur du Roi, 1896 ; Beverly Schreiber Jacoby, François Boucher's Early Development as a Draughtsman 1720-1734, 1986 ; Colin B. Bailey, Katherine M. Kraig, Regina Shoolman Slatkin [et al.] François Boucher : 1703-1770 : his circle and influence, 1987.