Crispin de PASSE: Discordia [The Bad Household] - 1589
SOLD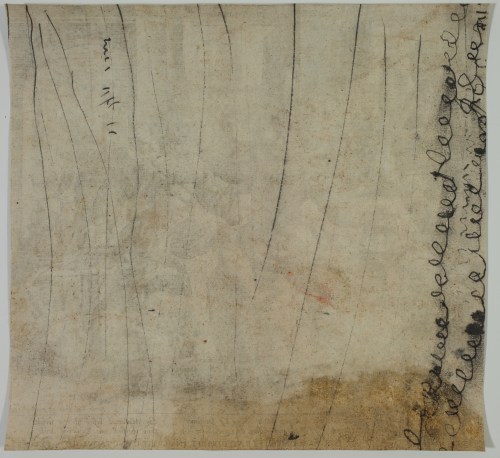 SOLD
Engraving after Martin de Vos, 225 x 240 mm. Hollstein 613, Franken 1212.
Very fine impression printed on laid watermarked paper (indistinct watermark). Numerous pen and ink essays on the back of the sheet (not visible recto). A yellow spot at the bottom of the sheet.
In a sumptuous interior, all the members of a family have left the dinner table and are fighting two by two, knocking over chairs, dishes and food. In the foreground, the master and mistress of the house are kicking and punching each other, the wife is about to strike her husband with her heavily laden key-chain, while he comes at her armed with a table knife. In the background, the sister tries to tear out her brother's eye, who is pummelling her with blows; another sister is pouring the contents of a large glass down her brother's neck, while the youngest takes advantage of the chaos to gorge on a chicken, imitated by the cat. A small dog participates in the battle by biting the dress of his mistress. In the background, a servant alerted by the commotion rushes out of the kitchen to see what is going on.
Discordia is the counterpart of Concordia (Hollstein 612) which depicts a pious and peaceful family sitting at table in a plain and orderly interior. They all live in harmony under the tables of the Law.
When he engraved Discordia in 1589, Crispijn de Passe was 25 years old and had just been forced to leave Antwerp, as Ilja M. Veldman explains: "Being a Mennonite, he had to leave the city after it reverted to Spanish rule. He settled in Cologne in 1589, where he set up as a print publisher in his own right."
Ilja M. Veldman sees in Concordia and Discordia an echo of the political and religious turmoil: "The inscriptions on his Concord and Discord of 1589 after designs by Maarten de Vos make it abundantly clear that he had had enough of war and was looking for somewhere peaceful to get on with his work." (Crispijn de Passe, p. 39). If the verses engraved at the bottom of the print simply pit simplicity against wealth (De peu vault mieux La Jouissance / Que par mesure Outrecuidance, "It is better to have the true enjoyment of few things than to wallow in excess with impudence"), the Latin caption directly refers to the political situation: belli sed rabies, quicquid pax alma ministrat, diripit, invertit, cunctaque caede replet: "But the rage of war wrecks and ruins the benefits of peace and spreads carnage everywhere." (our translation). Crispin de Passe however had to flee Cologne for Utrecht in 1611.
References: Daniel Franken: L'œuvre gravé des van de Passe […] avec un supplément d'additions et de corrections par Simon Laschitzer, 1975; Ilja M. Veldman: Crispijn de Passe and his Progeny (1564-1670) A century of Print Production, 2001.