REMBRANDT: Christ at Emmaus: the smaller plate - 1634
SOLD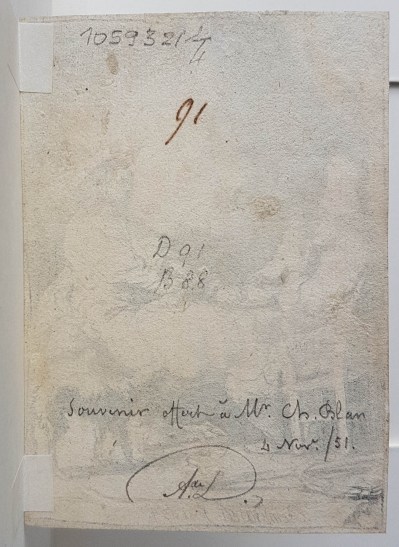 SOLD
Etching and drypoint, 104 x 73 mm. Bartsch 88, Biörklund and Barnard 34-K, New Hollstein 129, only state.
Superb impression printed on laid paper, trimmed on the platemark. On the back: Alcide Donnadieu's signature (Lugt 97 and 107) with the annotations: Souvenir offert à Mr. Ch. Blan 4 Nov. / 51 [Souvenir given to Mr. Ch. Blan 4 Nov. / 51]; number 91 written in ink; catalog references D91 and B88 written in pencil; traces of an inscription in pencil in the bottom blank part recto, to the right of the date.
In very fine condition. A few light foxmarks; the number 91 barely showing through recto.
All the impressions of this etching have a foul biting at the bottom of the table, just underneath the tablecloth. Progressive wear on the plate accentuated this defect on later impressions, and touches of grey wash were sometimes added to remedy the problem. On our impression, the strokes etched in that area do not show any wear.
Provenance: Alcide Donnadieu (around 1791-1861) and Charles Blanc (1813-1882).
Alcide Donnadieu was a French officer established in London, where he was dealing in drawings and autographs. His collection of prints, according to Lugt, was "small, but of very high value" (Lugt 97). Charles Blanc is the author of L'Œuvre complet de Rembrandt, catalogue raisonné de toutes les eaux-fortes du maître et de ses peintures published in two volumes in 1859/61.
Rare.