Armand SEGUIN: Rêverie - 1893
SOLD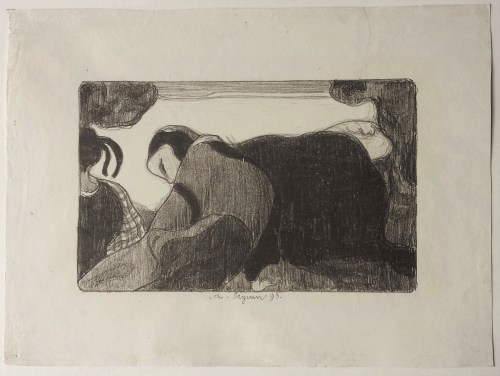 SOLD
[The Daydream]
Lithograph, 138 x 220 mm. Field, Strauss & Wagstaff 66.
Provenance: Émile Jourdan (1860-1931), thence by descent.
Very fine impression printed in dark brown ink on white wove paper, signed in the plate under the image: a. Seguin and dated 93.
Condition: a repaired tear (45 mm) in the upper right margin, just touching the subject; a small repaired loss of paper (25 x 5 mm) at the bottom sheet edge; a very small crease in the upper left part of the subject; three very tiny skinned spots in the blank part of the subject; very pale light stain. The tiny white vertical stroke on the young Breton's back is likely a defect on the lithographic stone and is also visible in the O'Conor impression (see below). Wide margins. Sheet : 233 x 312 mm.
We know only of one other impression of this print, printed on imitation Japan paper which belonged to Roderic O'Conor, and was sold at the Hôtel Drouot in 1956 (lot no. 69 in the catalogue). In their catalogue raisonné of Seguin's oeuvre, in which they list all the impressions that they know of for each print, R. S. Field, C. L. Strauss and S. J. Wagstaff Jr. only mention for Rêverie the one that belonged to Roderic O'Conor, and which was at the time in the Pierre Fabius collection (no. 66, with the title The Daydream). The O'Conor impression is again mentioned in the catalogue for the exhibition Gauguin & l'École de Pont-Aven that took place in the Bibliothèque nationale in 1989 (no. 103), and in the catalogue for the exhibition Armand Seguin, 1869-1903 in the Pont-Aven museum the same year (no. 57 in the catalogue). There is no restrike.
During his lifetime, Seguin's works have been printed only at a very small number of copies. In the catalogue of Seguin solo exhibition at Le Barc de Boutteville's gallery in February 1895, the prints exhibited are mentioned to have been printed at 2, 5, 10 or 20 impressions, but we assume that not all these editions have actually been completed. Consequently, lifetime impressions of Seguin's prints are very rare and often come from his circle of friends and family. It is the case for this impression of Rêverie, which belonged to the painter Émile Jourdan. Originally from Vannes, Jourdan had been a student at the Académie Julian. He settled in Pont-Aven in 1886 and became friends with Gauguin, Seguin and O'Conor.
Armand Seguin only created two lithographs: Rêverie and La Plaine. They are part of a group of seven prints from 1893-1894, which Field, Strauss and Wagstaff single out for their considerable degree of finish (no. 66 to 70 in their catalogue).
The main subject of Rêverie is a young Breton woman, half-reclining in the grass and leaning on her right arm. This figure is found in several of Seguin's prints, including his very first print, La Femme nue à la chauve-souris (Naked Woman with a Bat, 1890). Several studies in etching go over the same or a similar subject again (Field 51, 52, 56, 57). In La Primavera, a zincograph from 1894-1895, the young woman faces the viewer: staring dreamily, surrounded by flowers, she symbolises the renewal brought by spring, evoked in the title of the print.
In Rêverie, Seguin adopts a resolutely Synthetist and Cloisonnist style, favouring the flat forms in whites, greys and blacks to the detriment of details.
In the preface to the catalogue of Seguin exhibition at Le Barc de Boutteville's gallery, Gauguin writes: "It will be enough to warn the visitor that Seguin is, first and foremost, a cerebral artist – I wouldn't go as far as to call him literary -, one who expresses not what he sees, but what he thinks, with an original harmony of lines, and designs curiously contained within the arabesque."
References: R. S. Field, C. L. Strauss and S. J. Wagstaff Jr.: The Prints of Armand Seguin 1869-1903, Davison Art Center, 1980; M. Grivel (curator): Gauguin  & l'Ecole de Pont-Aven, Bibliothèque nationale de France, 1989; C. Boyle-Turner: The Prints of the Pont-Aven School : Gauguin and his circle in Brittany, MOMA, 1986; C. Puget: Armand Seguin, 1869-1903, Musée de Pont-Aven, 1989.