Albrecht DÜRER: The Four Avenging Angels - 1498
SOLD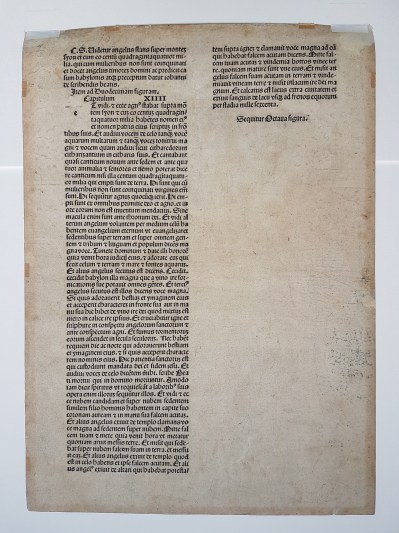 SOLD
Woodcut, 392 x 282 mm. Meder 171, Strauss 49. Impression from the original edition of 1498, with Latin text verso, before the correction of super monteƺ into suᵱ montem; before the wormholes appearing in the Latin edition of 1511 on the horse's mane and in the clouds.
Superb impression trimmed on the borderline. Without watermark as usual in the 1498 Latin edition (Meder, p. 152). Two very small losses along the left border, a tiny surface scratch without loss at the left of the Angel playing the trumpet. Two tiny skinning of the paper and a few stains, in particular along the left and upper edges. Otherwise in good condition.
Dürer started work on this series of 15 plates for the Apocalypse (Die heimlich offenbarung iohannis, Apocalipsis cu figuris) in 1494-1495 during his trip to Italy. The series was first published by Dürer in 1498 in two simultaneous editions, in Latin and in German, with a text on the back of each plate. Proof impressions without any text on the back do exist for some plates, but none for the Four Avenging Angels according to Meder.
The Four Avenging Angels of the Euphrates is the eighth plate in the Apocalypse series. It illustrates two consecutive episodes in Chapter 9 of the Apocalypse of John (verses 13-21), corresponding to the sounding of the fifth and sixth trumpets: the well of the chasm opens, letting out monstrous locusts that harass mankind for five months, and the four angels are set free with a mission to kill one third of humanity. Dürer emphasised the second episode, occupying the lower half of the plate, while the locusts in the first episode only occupy a central band under the altar, and provide a visual transition between Heaven and Earth. The frenetical slaughter perpetrated by the four angels echoes the ride of the Four Riders of the Apocalypse, unleashed against one fourth of humanity when the first four seals are opened. The dynamic composition, highlighting the arms of the avenging angels and the swords they brandish, emphasises the relentless punishment inflicted on mankind: men and women of all ranks fall pell-mell under the blows (a woman, a soldier, a pope and an emperor can be seen amongst the bodies). Panofsky observed that the upper and lower half of the woodblock were of unequal quality: the upper part, with a rigid classical effect, might have, according to him, been engraved by Dürer in 1496, while the lower part, with its complex composition showcasing a very high level of technical mastery, might date to 1497.