REMBRANDT HARMENSZOON VAN RIJN: The Baptism of the Eunuch - 1641
SOLD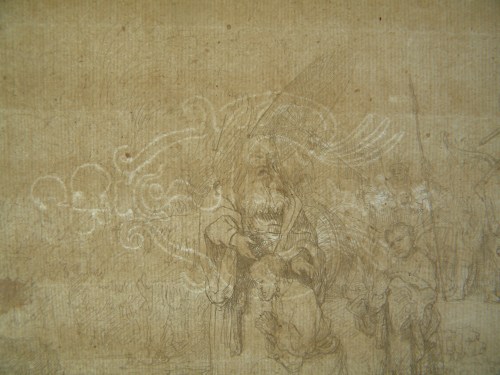 SOLD
Etching and drypoint, 180 x 215 mm. Bartsch 98, Biörklund and Barnard 41-E, Hind 182, New Hollstein 186, 3rd state (of 4).
Impression of the 3rd state (of 4) with the scratch at the right of Saint Philipp but before the rework in the upper part of the waterfall and the dark areas.
Very fine impression on laid paper watermarked (Arms, Unidentified B'-a-b). This watermark was identified on other copies of The Baptism of the Eunuch; it is listed by E. Hinterding in Rembrandt as an etcher. Catalogue of Watermarks, vol. III, p. 91.
Generally in very fine condition. Three tiny tears at the edges of the sheet, backed verso. Small margins (sheet: 192 x 225 mm).
Chapter 8 of the Acts of the Apostles describes the first missions of Jesus' twelve disciples. The episode chosen by Rembrandt here is the baptism of a high-ranking official in the service of the Queen of Ethiopia, whom Philip meets upon leaving Jerusalem, on the deserted path where an Angel had ordered him to travel south.