Félix BUHOT: Une jetée en Angleterre - 1879
SOLD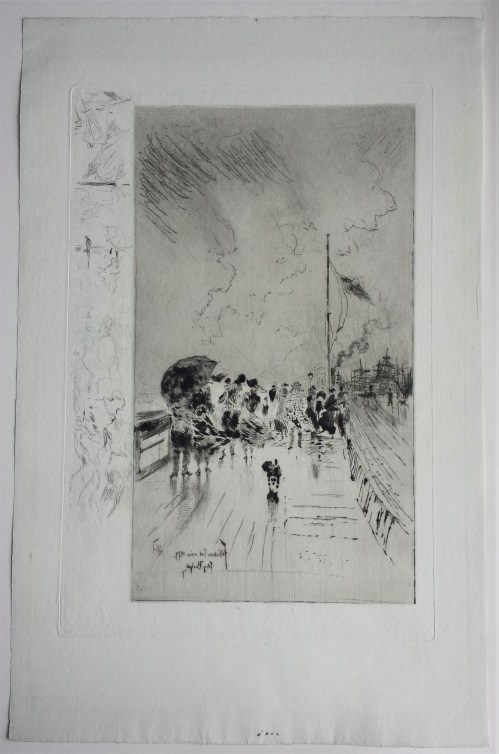 SOLD
[A Pier in England]
Drypoint and roulette, 298 x 199 mm. Bourcard/Goodfriend 132 i/viii.
Rare impression of the 1st state. The exact number of impressions of this state isn't known. 12 copies are mentioned by annotations on some impressions, 18 on others (according to Goodfriend).
One impression in the collection of the New York Public Library bears the annotation: 1er état tiré à 12 Epr (12 impressions of the 1st state); another impression, in the Museum of Fine Arts, Boston, is inscribed by Buhot: Pointe sèche d'après nature. Imprimée à 20 épr. (Drypoint taken from life. 20 impressions were printed.)
A superb impression printed on watermarked D & C BLAUW laid paper. In very good condition; a mat stain in the margins. Wide margins (sheet: 390 x 250 mm).
The eight states of Une jetée en Angleterre, described by J. Goodfriend, are a perfect example of Félix Buhot's work: he uses several techniques (drypoint, roulette, aquatint, soft ground etching...), and adds or subtracts certain details from the main composition or from the symphonic margins ; he even entirely erases those margins at one point, before reintroducing them in the end. In the first state, the characters in the margins are only lightly sketched in drypoint: the man wearing a hat hasn't yet replaced, at the bottom of the left hand margin, the two young misses with their backs turned; the lower margin is still blank; in the main subject, the roof of the train station and the iron ring on the dock are not visible yet, nor are Buhot's initials in the lower right hand corner. The clouds will be given shape in aquatint in the second state, but in this first state they are only sketched in drypoint, with a few diagonal lines to figure rain. The different shades and nuances of the stormy sky, which will become more and more threatening in subsequent states, are here obtained by inking, leaving a surface tone in the sky and in the foreground, while the center of the picture has been wiped thoroughly, and filters an uncertain light.